'Which is more important – a game of cricket or the loss of a son in the course of his duty' – the opening of this week's Downton Abbey employs rhetoric reminiscent of Ian Wright's warped worldview in The Sun earlier this year. The shadow of the First World War, now over two seasons and five years ago, still holds court in a rare difference of opinion between Carson, Mrs Hughes and Lord Grantham over how to remember the war dead. Talk of the war first appeared in the latter half of the first season – it is an event that has dominated proceedings, but understandably so.
A narrative involving more secrecy but of equal length has been that of Thomas' homosexuality. Even now the departing Jimmy cannot bring himself to give it a name. His chosen phrase 'A man like you' is part of a well-meaning speech, but exemplifies the kind of oppressive language that still abounds today. His ineloquence makes sense, as the term 'gay' was not a common synonym for homosexual for another few decades, but this is of little consolation to Thomas. The conniving butler is embittered with good reason, and his unexpected attempt to open up to Anna is thwarted by the appearance of Mr Bates. It will be easy enough to construct a conclusion for the heterosexual centrepieces of the show – is such a happy ending possible for Thomas? Meanwhile Jimmy's exit is the loss of a looker, but also continues the exodus of youth from Downton. Gwen, Ethel, Lavinia, William, Sybil, Matthew, Ivy and now James have all come and gone, and yet the Dowager abides. This is why Rose is a welcome source of sprightliness in an increasingly elderly clan.
There is, of course, a kid on the scene. Like Ivy and Rose, Edith's baby is botanically named, although Marigold suggests less of a bloom, more of an anachronistic pair of cleaning gloves. Sister Edith seems sincere in her love for the child, although knowing her luck as soon as it is old enough it will ditch her for Germany/her sister/because it is too old. This is the first episode for some time with no mention of the missing Michael Gregson, but his return would make too good a cliffhanger for me to believe he is truly gone. Of Baby Boy George and Sybbie (eurgh) we hear 'They seem to change week by week' although not for us in the audience, because they get so little screen time. I know 'children should be seen and not heard' was a mantra of the age, but right now we're getting neither.
As for the oldies, the Dowager is still desperate to set up Mrs Crawley with anyone with pulse, even if it is a faint, expiring one. Penelope Wilton sometimes falls in the shadow of Maggie Smith, but here she shows what an extraordinary actress she is. Without her repeated attempts at conciliation, the Dowager's zingers just would not work.
Downton Abbey has an undeserved reputation for being stuffy and straitlaced, but how many primetime dramas would have a conversation between two women about contraception? Mary's desire to do the deed is an all-too-rare example of female sexuality in mainstream television, and the show should be commended for it. It allows Anna, after humourously playing a pharmacy scene that is again usually given to men, to stoke her own feminist conscience: 'It seemed unfair to punish me like that. I feel like going back tomorrow and ordering a baker's dozen'.
The Baxter thievery storyline follows a classic Downton template – taking 1920s morals over stealing and using them to create drama that is more permanent. Do we trust someone who we do not like, if we consider they are saying something of interest to us? How do we resist the devil? She has been too taciturn to be likeable thus far, but Baxter gets her best moment yet when laying her past before Molesley – she won't be shamed into silence. I have less time for his moping over it – he says 'It is not for me to pass sentence, but I wish he'd tell his face. The episode deals with male neediness for female affirmation in different dynamics – Molesley from Baxter, Carson from Mrs Hughes and Charles Blake from Mary.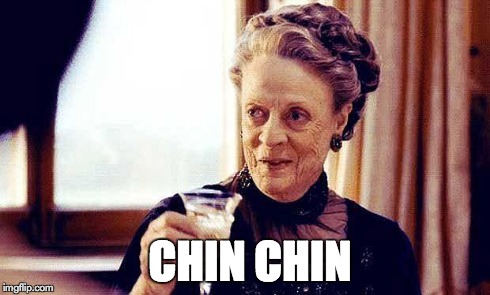 We can't go on like this with no mention of the Downton debut of Withnail himself, Richard E. Grant. He gets few lines and the repeated comments on his tan make HIM the eye candy, but I would love to see his flirting with Cora developed. Those of you applying the Withnail & I drinking game here must consume three times – none of them were lighter fluid, though even the wankers on the site wouldn't drink that.
The wireless scenes feel too similar to when the telephone arrived, although they do give Daisy the best line of the week – 'why is it called a wireless when there's so many wires?'. Robert's distrust for it (and anything that isn't his dog) is all too expected. His rage at change feels increasingly impotent, and with Withnail's winning smile in opposition, it is the Lord's least likeable episode since he inadvertently contributed to his daughter's death back in season 3.
However any lingering staidness is rescued just before the close by Mary's dangerous liason. The lack of a conventional male romantic lead since dashing Dan Stevens created a vacuum for some, but this unfamiliar dynamic has been an excellent opportunity for different storylines. Michelle Dockery portrays Mary's uncertainty quite wonderfully – we understand how she is enjoying the attentions of the two men, but how this same attention also makes her unsteady. For the first time since 'the event that shall not be named', you see Mary's eyes light up – now will she keep getting to grips with Gillingham?