There's the hound's bum…and they're off! Series 5 of TV's annual aristocrats begins in an entirely familiar vein, like a warm hug from an old, antiquated friend. At first, it seems that nothing has changed – the colouring is brown and fusty, Lord Grantham is concerned about a changing world and of course there is a zesty zinger from the Dowager – 'I was talking about companionship…I hope you were too'. It is fun, friendly and familiar, but surely Downton Abbey cannot sustain with the same methods for another season?
Give it five minutes though, and you start to notice differences. The dialogue, once so elongated and performed, has upped its pace. Fancy Fellows and his team of scribes have been watching some Aaron Sorkin, and to good effect – in one exchange in the servants' dining room we bounce between Bates, Anna, Thomas, Jimmy, Carson, Molesley and the irrepressible Mrs Hughes, each afforded one line to remind us of their perfectly positioned characters.
Downton's own Beyonce Knowles (fiesty, feminist, if-you-don't-want-her-what-is-wrong-with-you), Lady Mary Crawley, takes a backseat for the first part of the episode, leaving space for the sad life of sister Edith. Like all superstars Mary keeps us waiting, then when arrives is on top form, standing her own against the smooth stylings of Lord Tweed Gillingham and only accepting his advances when they are on HER terms. It is quite a balancing act to have a character who is, in her own words, 'cold and unfeeling', but also vibrant, witty and loveable. And, after twelve years and one World War, sex has finally come to the Abbey! Mary mixes philosophy with philandry, announcing with consummate style, 'Even now we must decide whether to spend our lives with someone without spending any real time with them…without even, you know…'. Nudge nudge, wink wink, is your wife a sport?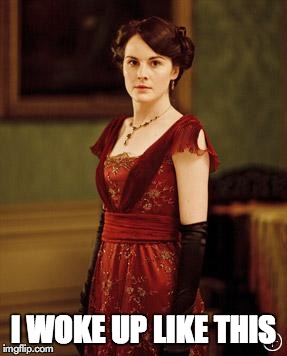 The show is often at its best when it touches on the political and social differences between its personalities, and a chill runs through the air when schoolteacher Sarah Bunting poses an alternative to the commemoration of the war deceased. The ensuing debate is still relevant today – how do we balance remembering those lost at war with avoidance of further conflict? The irate Lord Grantham tries to inherit the family sharp tongue by calling her 'the Boudicca of the north', but she is more of a Virginia Woolf – educated, individual, and not afraid of taking on the Establishment. It turns out to be the pocket rocket Bunting who brings the most energy – her interjection at dinner is the most gripping moment in a very strong first episode, and is followed by a venture downstairs, where she shows more warmth and natural conversation than any other person to have broken the divide. After four seasons of accents that range from mellow to positively cut-glass, it is refreshing to have another proper Northern twang to keep company that of Daisy.
Sarah's active personality is in stark contrast to that of Edith, surely the unluckiest Lady in the land. Her developing motherliness is wracked with the sadness of separation, and truly her whole life is in stasis. She would do well to remember the up-and-at-em approach of Sybil – if your lover disappears in Deustchland, go and find him, get find him, or at least get another lover. Jimmy/James/Jim/J has no such trouble – his floppy top proves just to irresistible for former employer Lady Anstruther (Duckface from Four Weddings And A Funeral), but Lord Grantham's discovery of their seedy tryst might mean hair today, gone tomorrow.
I've always been impressed by the show's consistency in creating crescendos for every single episode. Here we get the hottest heights yet, as (SPOILERY SPOILER) flames engulf the Abbey. Yes, it is a plot device employed in even the most frequent of soaps, but it has added potency here. Barrow's tragically twisted love-life, Lady Mary's impending antics and Edith's sad snooze are all interrupted by the blaze, but it is the eponymous character, the Abbey itself, that is truly under threat. Immediate danger is averted; the metaphor for the future of the family is made.
So we're on our way with another season of class, intrigue and tonnes of tweed. Now will you please excuse me – 'I'm going upstairs to take off my hat' (now that Lady Mary's back on the love train, this is a euphemism, right?).